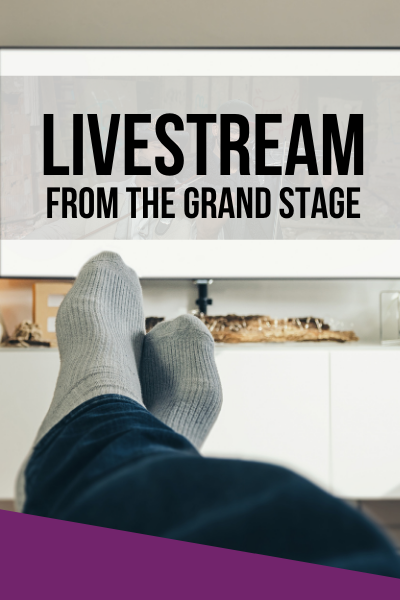 If you're not quite ready to attend a live performance yet, or if you live out of region, you can still see shows from The Grand stage!
Introducing our livestream ticket option. For $15, enjoy a full-length, high-quality performance streamed from The Grand Oshkosh. Only one ticket is needed per household. The show is live and cannot be replayed. We also have a tech helpline available at (920) 267-7554 the night of the show!
Holiday ExtravaGRANDza December 6, 2020 | 7:00 p.m. CST (Free!)
Lisa Rock in "A Carpenters' Christmas" December 18, 2020 | 7:30 p.m. CST
Check out the quality and what to expect! This video has footage from our first livestream in September.
How to purchase your livestream ticket
Click on the link to purchase.
When prompted, enter your credit card and billing information.
You will then get a confirmation email with your receipt. Keep this email for future reference.
The night of the show, click on the original link to view the livestream. We will begin broadcasting approximately 30 minutes before the performance starts.
If you are viewing the livestream from a different device or IP address, you will need to use the password provided in the confirmation email.
Note: the password is only available to be used with one IP address. Do not share it as your stream will only be able to be viewed once.
Note: the live stream broadcast must be viewed through a browser. If your smart device (TV) doesn't have a browser, you will need to connect it to a laptop or other device that has one.
If you cannot connect the night of the performance, please call: (920) 267-7554