Student Discovery Series Policies

Click on an item to view more information.
Reservations and Deposits
Reservations may be made by phone, mail or email.
Reservations will not be secure until a non-refundable deposit of $1.00 per seat is received. This deposit will be deducted from total balance due.
A seat MUST be reserved for everyone in group, including all students, teachers, aides, and chaperones. Please account for all attendees at the time of initial reservation.
To make reservations by phone, contact Kylie Montee at 920.460.9367. Email reservations may be sent to

This email address is being protected from spambots. You need JavaScript enabled to view it.

.
Payment
A final invoice for balance due will be sent approximately two months prior to the performance, with the exception of early season shows.
Payment in full is due one month prior to performance.
If final payment is not received by the due date listed on your invoice, your seats may be released for sale and deposit forfeited.
Cancellation or reduction of reservation numbers will only be accepted up to one month prior to performance. After that time, you will be responsible for the cost of reserved seats.
Additional seats may be purchased up to one week before performance if available.
Absolutely no one will be admitted to the theater if payment in full has not been received in advance of performance.
Payments will not be accepted on the day of the show.
Prices
Cost is $7.00 per seat.
Payment should be made with check or credit card.
Cash will not be accepted.
No printed tickets will be issued.
Ushers will show you to your assigned seats.
Chaperones
One free chaperone is allowed for each 10 paid student admissions.
Amcor Student Discovery Series performances are for the students of public, private or home school institutions only. No tickets will be sold to the general public.
Please limit your number of adult chaperones to a reasonable number; this is often dependent on the grade level of the students attending.
All reservations must be done by the school group contact. Do not have parents call for additional seats; this will not be permitted.
Age Guidelines
Each touring company has provided us with a recommended age range for their particular performance. These are a suggestion; however, children under 3 years of age will not be admitted to the theater. Babies in arms or child carriers will not be permitted in the theater.
Seating
There are no printed tickets for the Discovery Series.
All seating is done from a seating chart assigned by The Grand staff based on special needs, grade level, size of group and best "fit" in the theater.
It is important to us to keep groups together; however, this is not always possible. Should it be necessary for your group to be split, you will be reunited prior to dismissal from the building.
We strongly recommend the use of nametags or school-specific attire for all students and adults in your group, clearly marked with name and school.
Please abide by all volunteer and staff instructions for seating and dismissal to keep the program running in a timely fashion.
Accommodations
Please inform us of any accommodations at the time of reservation, including but not limited to: limited sight, hard of hearing, wheelchairs, walkers, or need for an interpreter. This information is used to best accommodate groups into our theatre.
Study Guides
You may request a study guide be sent to you if email address has been provided.
Study guides will not be sent by US Postal Services due to size of some study guides. Please contact the Student Discovery Series for other methods of procuring a study guides if email is not available.
Confirmations
Confirmations, in the form of an invoice showing balances paid, will be sent approximately one month prior to the performance. Additionally, maps and arrival and dismissal instructions will be sent.
Refunds and Cancellations
No refunds will be issued for cancellations after final payment has been made.
Refunds will only be issued in the event that The Grand cancels the performance.
If your school district closes due to inclement weather, The Grand will provide either an alternate show date or refund.
Directions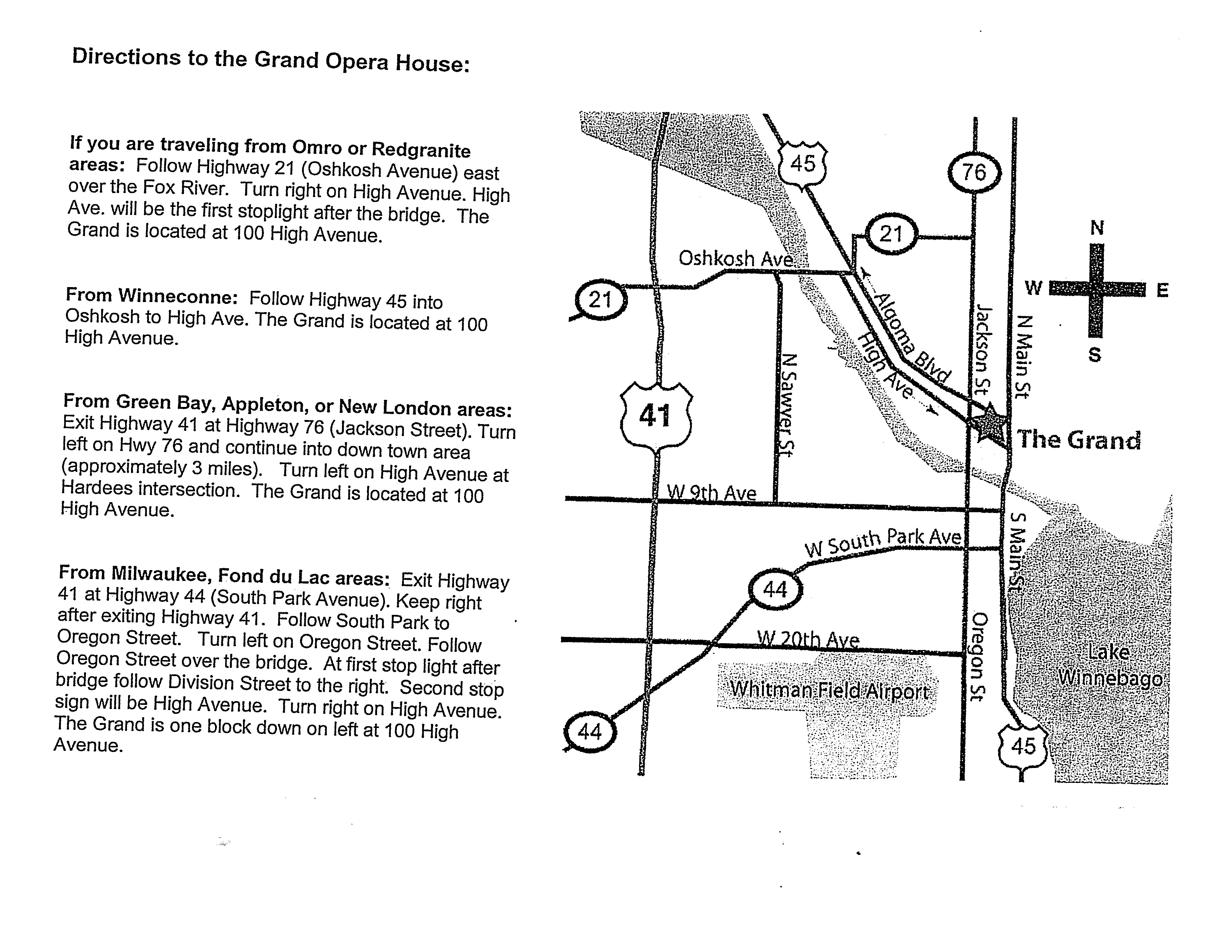 Parking
Bus Driver Information